BE OUT THERE CAMPAIGN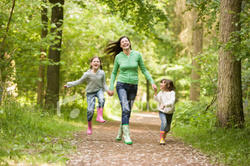 About the Campaign
National Wildlife Federation's Be Out There Movement
Be Out There's mission is to return to the nation's children what they don't even know they've lost: their connection to the natural world. Kids today spend twice as much time indoors as their parents did, missing out on the simple pleasures and lasting mental and physical health benefits of daily outdoor time.
Be Out There's practical tools for families, schools and communities will make being outdoors a fun, healthy and automatic part of everyday life. By raising awareness, inspiring behavior change and taking action, Be Out There will help get American children and families back outside—where they belong.
Why Be Out There
The nature of childhood has changed: there's not much nature in it.
American childhood has moved indoors during the last two decades, taking a mental and physical toll on today's kids. The negative impact of decreased time outdoors includes a doubling of the childhood obesity rate -- accompanied by an incremental hundred billion dollar cost to our health care system -- as well as declining creativity, concentration and social skills.
Some say it takes a village to raise a child. We say: it takes a backyard, a playground, a park. Studies show outdoor time helps children grow lean and strong, enhances imaginations and attention spans, decreases aggression, and boosts classroom performance. In addition, children who spend time in nature regularly are shown to become better stewards of the environment.